The result is a clean, modern logo that can be easily applied to a variety of media. With the logo created we began the process of a full brand integration that included the following items and more.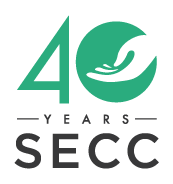 With their 40th Anniversary approaching, SECC director Carolyn Warkentin felt it was time to rebrand the organization. The plan was to create a 40th Anniversary logo that would celebrate this milestone, then transition to their new logo moving forward.

The process began with a meeting at Speedprint to learn about SECC and was followed by an onsite visit at the SECC offices to get a better understanding of the organization and what they wanted their brand to represent. From these meetings it became clear that hands were an important element that should be carried forward from previous logos. They represent a helping hand, which is at the core of SECC's mission of "Helping People, Improving Lives." We also chose an updated font and carried over the green colour but in a more modern hue. Finally the circle element proved to work well in the 40th Anniversary logo, and the soon to be implemented logo.